Principal's Blog #4!
This week was full of rugby jamborees for our girls' and boys' teams.  Our music students recorded their submission for the Musicfest Canada Nationals. Good luck! We also competed in a track and field meet.
Field trips had classes out and about all week. We had our first grade 5 transition visits to Journey with John Muir and Sooke Elementary. Thank you to Madame Croft and her students for hosting our visitors, providing fun exploration of Journey and showing the future Journey Dragons what middle school is all about.
This week we held our first student council meeting. It was a great turn out, with lots of ideas and plans in the making. We will meet again next Wednesday to continue.
We had our last fire drill of the year – that makes six!
Pancakes were served today for the whole school thanks to the Sooke Lions and Lionesses. Today is also Bus Driver appreciation day – thank you to all you bus drivers in delivering our students safely to and from school!
After our last staff meeting, where we received epi-pen training, staff members were asked to ensure that they make contact with all  families of students in their class if there was a class member who had a life-threatening allergy or allergies which could cause substantial physical reactions. They were also asked to place an allergy alert in the window of their classroom. If you received this information, please do not send your child with any of these possible substances. Journey is also a scent-free zone.
This week we had district teacher Franchesca Lee come in and work with some of our grade 8 classes and she will be returning next week for a final session with those classes.
Congratulations to the PAC for electing a new executive for the 2022-2023 school year! Trudy Fraser will be remaining as our PAC president. Thank you for your ongoing support of our school.
Next week, please remember that May 23 is a holiday. We have new EA practicum student starting on Tuesday who will be with us into June.
Pizza day is on Wednesday, May 25 – these prepaid meals were purchased ahead of time. We will also be having our second student council meeting on Wednesday. Poirier future Journey Dragons will be visiting on Thursday, May 26. Our grade 8s will be visiting EMCS for a transition activity on Friday, May 27.
Grade 8 families, please join us in person at EMCS or virtually by clicking on the link below for our annual AGM Meeting June 7 at 6:30pm.
Positions that need to be filled are Vice President, Secretary, SPEAC representative, EMCS society representative, School Planning council representative and PAC communications representative. Volunteers must be parents or official guardians of EMCS students.
_____________________________________________________________
Microsoft Teams meeting
Join on your computer or mobile app
Click here to join the meeting
Our doors have definitely come open to the world again. It has been a great week to see some visitors coming into the school.
This week we had Naomi Watser working with some of our PHE classes with lacrosse. We also had Ms. Robynne from Wild about plants come in to have tea and a plant walk with Ms. Wien's class.
We had our first face to face PAC meeting in two and a half years. Special guests were Ravi Parmar (SD 62 Trustee and board chair), Allison Watson (SD 62 trustee, Milne's Landing zone), and Stephanie Hedley-Smith (associate superintendent, Milne's Landing zone). We are looking forward to having people volunteer to be part of PAC next year, members are needed. It is a fantastic way to come and be part of your child's school and learn about what is going on.
On the 11th, we had a morning smudge and in the afternoon, we had our first whole school assembly in two and a half years!! We welcomed PROFESSOR WOW! He was an entertaining, creative and zany scientist/circus performer. It was wonderful to see so much excitement and energy on smiling faces!
Today marked the beginning of the Moose Hide Campaign – a symbol of this campaign can be seen by a square of leather pinned to clothing. We had a group go to Mystic Beach and we had grade 6's have their second regularly scheduled immunizations (these were immunizations done with parental consent through VIHA). We also had students competing in a track and field competition today and we have had a couple rugby matches!
Reminder that there is no scheduled classes tomorrow for students – it is a PRO D!!
Upcoming next week, the music students will be recording their submission to the Musicfest Canada Nationals.  Some grade 8s are heading for a special treat and heading to the movies. Brother Rick will be visiting and our first Future Journey Dragons will be visiting from John Muir on Wednesday and from Sooke Elementary on Thursday. We have amazing student leaders who have worked very hard with their teacher to create a fun visit for our grade 5s which involve scavenger hunts, a fire and hot chocolate. Some divisions will be heading to the pool and there is a fire drill on Thursday – our last one of the year (there have been six in total).
We are excited to have the Lions and Lionesses come to the school on Friday, May 20 to make pancakes for the whole school :0)
I have been thrilled to be able to call upon student leaders to help out and be involved around the school once again! Today on the announcements, we put out the call to all grade 6, 7, and 8 students to come participate in a student counsel that will be starting up next week. This group will be involved in the enhancement and engagement of all students through their feedback and organization of cool events which I hope to have happen over the next month and a half!
This week at Journey
On Monday we welcomed Ms. Fitzgerald who will be taking over for Ms. McClintock while she is on maternity leave. We also had class photos on Tuesday. This may not seem like a big deal, however, we were able to use student leaders again to help gather and organize our classes to come in person for their group photo.
Camosun College was here working with some of our grade 8 students. They explored pipefitting with a lot of cool tools.
Some of our classes yesterday observed MMIW by creating door sized red dresses to honour those Indigenous women who are no longer with us.
Pizza forms should be coming home today. Orders are due by May 18th and PIZZA DAY will be on May 25!
Upcoming next week
Naomi Watser will be coming to work with some PHE classes in the realm of lacrosse. We have a smudge on Wednesday and the whole school will be in attendance for an Artstart's presentation of PROFESSOR WOW! Wednesday will mark the end of FAST rotation #5; new course will begin for your child on May 16.
PAC meeting will be in person at the school at 7 pm. It is an AGM. Volunteers are always needed.
On May 12th, The Moose hide campaign starts and grade 6 students who are due for their second immunizations and catch up on any immunizations they are behind on. These are immunizations that have received parental consent only.
Friday, May 13 is a professional development day. No school for students!
Sorry for any inconvenience, but Robotics Club has been cancelled for May 5th/22.
Thank You
Pizza Day is coming May 25th!
Please click on the link below for an order form.
The ABCs of Substance Use and Connecting With Our Kids
Online Event (Free)
Wednesday, May 4th, 6pm – 8pm PST
Talking about substance use with our kids is important, but we don't always know how. Join us for a conversation to talk about the basics of substance use; from pre-experimentation to casual using.  We will focus on the importance of our relationships and staying connected to our kids.
This event will not include chronic use and addiction.
Speakers:
Cindy Andrew is a mother of two, a former teacher and long time health promoter. She is a senior associate on the team leading The ABCs of Youth Substance Use, a BC government funded project focused on supporting schools – and by extension, parents and caregivers, in addressing substance use with youth. A former program consultant with the Canadian Institute on Substance Use Research, Cindy also works with a Vancouver Island based school district in supporting their health promoting schools related efforts, which includes connecting with and support parents and caregivers.
Angela Lawrence is a parent of 2, a certified educator and a registered clinical counsellor.  Angela works to support youth  who present with substance use issues.
Art Steinmann brings over 40 years of experience in substance use policy, education, program development, advocacy and health promotion work. Art is a Senior Associate, Youth Substance Use Health Promotion, Bunyaad Public Affairs Inc.  From 2005 – 2021 Art was the co-founder, co-developer and Manager of Substance Use Health Promotion and SACY (Supporting and Connecting Youth) for the Vancouver School Board.
Victoria Keddis is a FamilySmart Practice Manager & Facilitator. Victoria is a mom of two adult children and is grateful for the teachings of her children along the way.
For more information, resources and activities to celebrate May 7th – National Child & Youth Mental Health Day in your school or community, go to:
This week was our first full week in quite a while. I am a new blogger, thanks for reading my first entry. I am so excited to see the return of fieldtrip requests from our teachers; they are coming in fast and furious. Lots of great activities are coming up for classes in the next two months!
Monday
We welcomed the addition of another lunch time assistant, Ms. Tooey and expanded the supervision time of two of our other assistants to have more morning and after school coverage.
In the afternoon, we hosted a grade 8 badminton tournament, thanks for Ms. McMaster's help there!
Tuesday
It was Subway lunch day and we had a grade 6/7 girls badminton tournament in the afternoon. Much thanks to Ms. Thompson and Ms. Crocker for their help organizing the special lunch for the students who participated and to Mr. Malone with his help coaching the badminton team!
Wednesday
Our district Indigenous Education department requested volunteers to share feedback in a survey about the Na'tsa'maht Indigenous Education agreement renewal.
Brittany Sims also organized for some members of the Brazilian rugby team to come and work with our student rugby players for part of the morning. The students enjoyed their expertise and time.
Mr. Van Hooydonk worked with the boy's badminton team to have a tournament in the afternoon. His coaching is time is greatly appreciated.
Thursday
National Day of Mourning – available staff gathered in the morning to honour colleagues who have died or have been injured on the job.
Staff from the Boys and Girls club were present as an additional support to our students and will continue to be present a couple days a week until the end of the school year.
Sgt. Kevin Shaw from the Sooke RCMP detachment dropped by and was here to introduce himself. We talked for a bit about what's been going on in and around the school, how we can connect positively and possible ways to have the police come and be a presence around the school without raising fear.
Friday
It was a typical sunny Friday. It was great to see so many classes taking advantage of our amazing location and beautiful weather.
Throughout the week:
Meetings for our grade 5s who will soon be our grade 6s took place this week – elementary school teachers met with our amazing transition team which was composed of Ms. Millen (integrated support), Ms. Yarchuk (counselor) and Ms. Dvorak (VP). This information will be used to create the best configurations for next year's classes. The creation of all classes next month will happen next month.
Safety we are working on to implement over the next couple of weeks:
We will be addressing unexcused lates with a new tracking system.
Random locker and bag checks
More frequent locker clean outs
Hallpasses for leaving the classroom
Please speak with your children regarding these enhanced safety measures that aim to ensure safety and organized travel of students in the hallways and bathrooms.
Next week:
Class photos will be on Tuesday, May 3
Thursday, 3:15 – 4:30 pm, Robotics – meet in the front foyer. Beginners welcome.
Thursday and Friday, Camosun will be coming to work with some of our grade 8 students who are interested in pipe fitting.
Reminders for families and students
Journey is a no cell phone school from first bell until the last bell within the building and while on school grounds outside. Please do not call or text your child during class time during the day. If you wish to make contact with your child to relay a message that they need to receive during the day (and can't wait until after school), please call us in the office at 250-642-5881 and we will make sure that your message will be passed along.
Resources of the week
An honest conversation with parents and caregivers who are struggling to connect with their kids.
https://urldefense.com/v3/__https://mailchi.mp/familysmart/building-connection-with-our-kids-when-it-feels-impossible-virtual-event?e=4703506827__;!!AqQTiOZlHyw!9aSSc3XKtz7plWDH185s9sIOdD8Sb1Gu5NgooXkfNcKOAuMcSr-gepmCbSQAvQGA3veM6rcFLlaHDSwS6agdcw$ )
Building Connection With Our Kids When It Feels Impossible
Online Event (Free)
Tuesday, May 3rd, 12pm – 1pm PST
An honest conversation with parents and caregivers who are struggling to connect with their kids.  We know what it's like because we've been there.  Join FamilySmart Parent Peer Support Workers and we will share strategies to build, and rebuild, connections even when it is complex.  This conversation is facilitated by parents with lived experience.
Register at:
https://urldefense.com/v3/__https://familysmart.ca/event/ideas-for-parents-and-caregivers-to-rebuild-connection-when-it-feels-impossible/?utm_source=FamilySmart*Primary*List&utm_campaign=fd9318391c-EMAIL_CAMPAIGN_2022_04_26_04_48&utm_medium=email&utm_term=0_6c9ba9ce41-fd9318391c-365426288__;Kys!!AqQTiOZlHyw!9aSSc3XKtz7plWDH185s9sIOdD8Sb1Gu5NgooXkfNcKOAuMcSr-gepmCbSQAvQGA3veM6rcFLlaHDSxAW4UrtQ$
Thank you for your ongoing support of our staff and students. Hope you have a great weekend.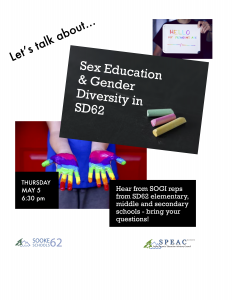 REGISTRATION REQUIRED: https://www.eventbrite.ca/e/323585893117